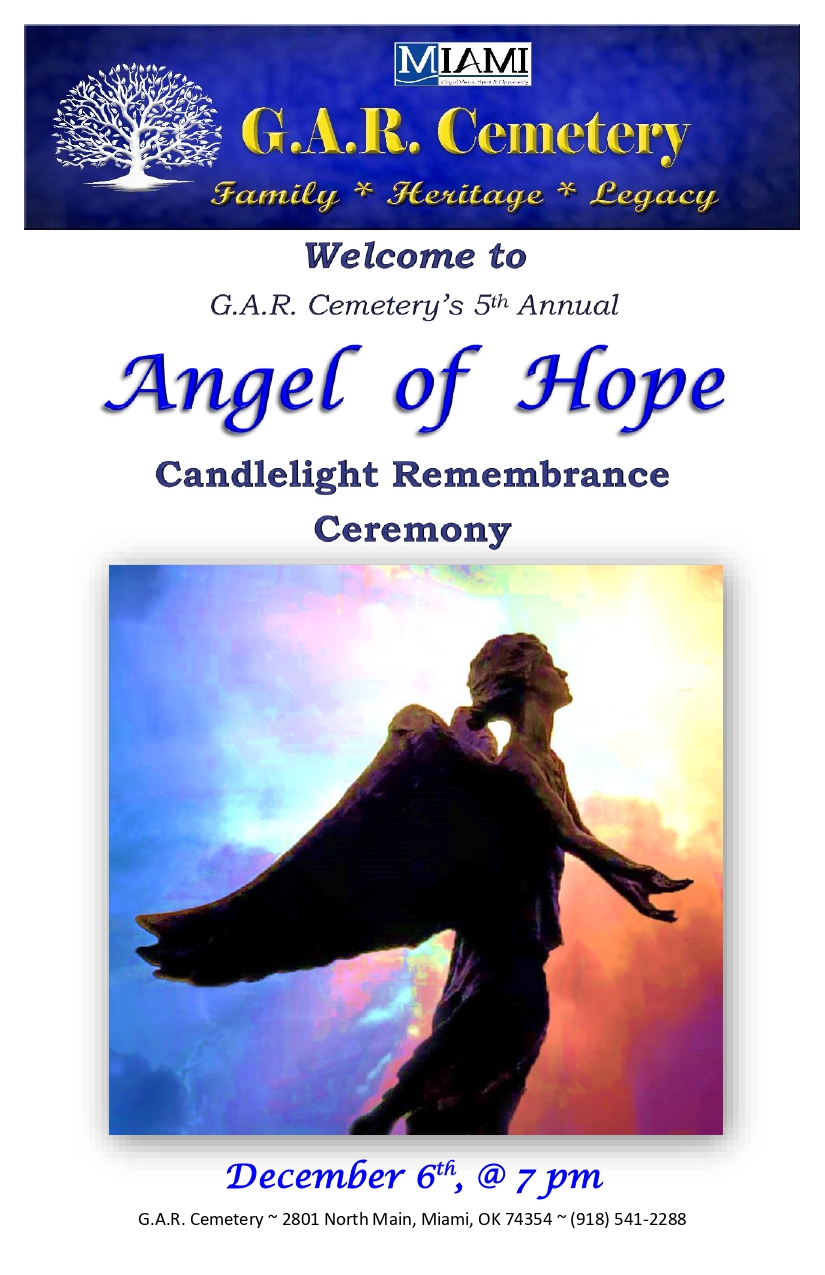 2022 Angel of Hope Candlelight Remembrance Ceremony
December 6, 2022 @ 7:00 pm
G.A.R. Cemetery to Hold Their 5th Annual Angel of Hope Candlelight Remembrance Ceremony
On December 6th, at 7:00 p.m G.A.R. Cemetery will hold their 5th annual Angel of Hope Candlelight Remembrance Ceremony at our Angel of Hope statue which is located on cemetery grounds. The 3rd gate, which is the furthest northern entrance is where you will enter. We will have some lighting in place for easier visibility.
We at G.A.R. believe that everyone is someone's child, so, we invite everyone to join us at this special remembrance ceremony. All attendees will be invited to place a white carnation provided by G.A.R. Cemetery, at the base of the angel statute, and if they wish, the name of their loved one may be read aloud.
"Enduring the tragedy of losing a child is an indescribable journey of survival. We at G.A.R. Cemetery hope that the candlelight remembrance ceremony will give our families a special momney to remember their loved one. We want all to come that may benefit from the support and healing that we hope to extend." ~ Nancy Bro, G.A.R. Cemetery Office Mgr.
The "Garden of Angels" section offers infant and cremains plots. This new section has at its center The Christmas Box Angel, one of less than 200 in the world.
2022 Angel of Hope Candlelight Remembrance Ceremony PDF
2022 Angel of Hope Candlelight Remembrance Ceremony Itinerary PDF
For more information you may call the G.A.R. Cemetery office at (918) 541-2288
Or visit our website at: www.garcemeterymiamiok.com